Christine M. Capitolo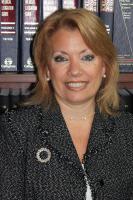 Curriculum Vitae:
Christine M. Capitolo is a native New Yorker who was graduated from and received her B.A. degree from the State University of New York at Oneonta in 1981, and a J.D. degree from Touro College School of Law in 1984. She was admitted to the New York State Bar in 1985, the United States District Court (Eastern and Southern District) in 1986, and the United States Supreme Court in 1997 and the United States Court of Appeals for the Second Circuit in 2010.
She is a partner with Torino & Bernstein having joined the firm in 1998. Within the firm, she concentrates her practice in areas of complex civil litigation, handling the defense of self insured entities as well as insurance companies both in State and Federal Courts. While defending such actions, Ms. Capitolo concentrates in premises and products liability cases primarily in the supermarket industry and for multiple commercial property owners. When necessary, she has drafted numerous appellate briefs and argued such matters before New York State Appellate Courts.
Prior to joining Torino & Bernstein, she started her legal career with a general practitioner in New York City. She then commenced her own general practice firm. She next became affiliated with the Nassau County Attorney's Office, first as a prosecutor in the Family Court Bureau, and then as a trial attorney in the Litigation Bureau, concentrating on municipal tort defense matters.
Ms. Capitolo was also on staff at Nassau Community College as an adjunct faculty member in the Legal Studies Department, teaching courses in Litigation and in Legal Research and Writing.
She currently resides in North Woodmere, New York with her husband, Norman and two children. Presently, she is a member of the Nassau County Bar Association and the Nassau County Women's Bar Association, having served as President of the latter association in 1994.